Cisco Certification Training Courses

Flexible Hours

100 Assignments

Instructor Led online Training

50 LMS Access

24X7 Support
100% Skill Level
Course Overview
Overview
In today's complex global economy, it is crucial for organizations to have seamless connectivity across their locations for their products and services worldwide. In this regard, Cisco, as a business entity, has helped enterprises across industry sectors by providing robust networking, communication products, and other critical services.
Cisco certified professionals are in high demand as many enterprises worldwide use their systems and architecture within their IT environment. Some of the most popular Cisco certifications such as CCNA, CCIE, and CCNP are in great demand by both professionals and employers.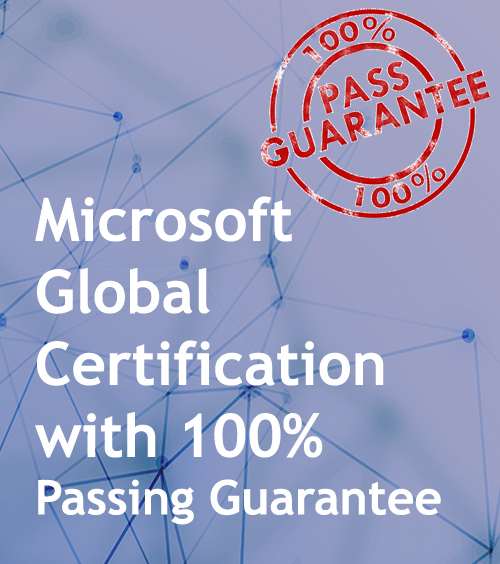 Fees
Online Live One to One Training
24 Hrs of Instructor-led Training
1:1 Doubt Resolution Sessions
Attend as many batches for Lifetime
Objective
Cisco Certification Courses
Professional upskilling is the need of the hour, and it is quite true for the IT industry especially. With newer technologies continuously disrupting the market, it is critical for professionals to stay updated with the latest trends and skills that differentiate between certified and non-certified professionals.
Cisco certification courses are quite popular in the IT industry, especially for professionals who are into the IT administration domain. The Cisco certification courses are vendor-specific training and are ideal for professionals who work on Cisco-enabled enterprise architecture globally.
Cisco has carefully divided their certifications into different levels and paths that include storage networking, routing and switching, design, and security. Participants who take up Cisco certification training will gain a comprehensive understanding of skills and knowledge required to handle Cisco products and resolve customer-centric technology problems. The Cisco certifications usually diverge into two paths in Networking Operation and Networking Design.
Module 1: Whiteboard Design Session – Cognitive Services and deep learning
Various levels of Cisco Certifications:
Cisco Entry-level Certifications
Cisco Associate-level Certifications
Cisco Professional-level Certifications
Cisco Expert-level Certifications
Cisco Architect-level Certifications
Cisco Entry-level Certifications:
The CCENT (Cisco Certified Entry Network Technician) and CCT (Cisco Certified Technician) are two of the entry-level Cisco certification programs that are ideal for professionals, who install, troubleshoot, maintain, diagnose issues, and replace network equipment. Both these certification are pre-requisites for some of the Associate-level Cisco certification training.
Cisco Associate-level Certifications:
The Cisco Certified Network Associate (CCNA) and Cisco Certified Design Associate (CCDA) are two of the Cisco Associate-level certification programs and are ideal for professionals who choose different paths in Networking and Design. CCNA is ideal for professionals who are more towards install, support, and troubleshoot enterprise networks that are both wired and wireless. CCDA is ideal for professionals who are into designing enterprise wired and wireless networks.
Cisco Professional-level Certifications:
The Cisco Certified Network Professional (CCNP) and Cisco Certified Design Professional (CCDP) are two of the Cisco Professional-level certification programs that are ideal for professionals who plan, manage, troubleshoot LANs and WANs, and design and deploy scalable networks in an enterprise. Many Cisco Associate-level certifications are a pre-requisite for these CCNP and CCDP certification courses.
Cisco Expert-level Certifications:
The Cisco Certified Internetwork Expert (CCIE) and Cisco Certified Design Expert (CCDE) are two of the Cisco Expert-level certification programs that are ideal for professionals who are focussed on Network-track and Design-track Cisco certification programs. These expert-level certifications have introduced a new stream in Evolving Technologies Domain to keep the Cisco certifications current and updated. Both these CCIE and CCDE certifications do not have pre-requisites but have a rigorous written and practical exam to clear the same.
Cisco Architect-level Certifications:
Cisco Certified Architect (CCAr) is the only Architect-level certification offered by Cisco and is ideal for professionals who are looking to move ahead in their careers as a Network Architect or as a Data Center Architect. This is the highest level of certification offered by Cisco and is like a pinnacle for many Cisco certified professionals worldwide. Participants who take up this CCAr certification course will learn about planning and designing IT infrastructures according to the business needs.
Who can take up Cisco Certification Training?
Job roles that can benefit from Cisco Certification training include, but are not limited to:
Networking Professionals
System Administrators
Security Analysts
Security Engineers
Network Engineers
Solution Architects
Network Architects
Data Center Architects
Help Desk Technicians
IT Managers
Security Consultants
CIOs
Aspiring IT Networking Professionals
Professionals who want to gain knowledge of Cisco network and design infrastructure
Professionals looking to clear their respective Cisco Certification exams
Reasons to choose Cisco Certification Courses from Koenig Solutions
A wide portfolio of Cisco certification courses provided across 5 levels and job paths
Enhance your IT career with widely-accepted Cisco training courses
Expert Cisco instructors who have real-world experience to implement IT networking and design architectures
Cisco certification course material prepared by Subject Matter Experts with real-life case study discussions
Get Cisco live online training from an authorized Cisco Learning Partner
Options to take your Cisco courses either in 8 hours/day or 4 hours/day
Choose dates according to your needs Cisco training programs across classroom, online, and on-site training modes
Get a widely-recognized Cisco course completion certificate from Koenig
Be part of 'Guaranteed to Run' Cisco Certification sessions with 'Exam Pass Guarantee'
Become a global professional by earning internationally acknowledged Cisco certification credentials
Benefits of Cisco Certification Training
As a professional, get inside out knowledge of one of the biggest network vendors in the world through Cisco certifications.
Perform your day-to-day tasks with utmost confidence by gaining critical skills that help you in real-world problem-solving.
Enhance your career prospects worldwide and across industry sectors as Cisco certifications are valid and accepted by enterprises globally.
Get the best salary in your field with Cisco certifications. The average salary of Cisco certified professionals is in the range of USD 109,000 to 179,000 per annum in the US.
Create your own career path according to your choice through Network Operations related path or Network Design related path
Be credible in your domain by showcasing commitment towards your profession by getting Cisco certifications
Cisco certified professionals get additional responsibilities in their day-to-day job roles that help them to grow in their careers.
Increase your value with Cisco certifications by demonstrating your enhanced knowledge, skillset, and responsibilities
Added advantage to break out from your job silos with Cisco training programs that are truly versatile and great value for money
Be more marketable and hireable with industry-recognized Cisco certification courses that truly makes you a global professional
Recently Trained Students
Jessica Biel
– Infosys
My instructor had sound Knowledge and used to puts a lot of effort that made the course as simple and easy as possible. I was aiming for with the help of the ZebLearn Online training imparted to me by this organization.
Richard Harris
– ITC
I got my training from Gaurav sir in the Microsoft Azure Certification Training, I would like to say that say he is one of the best trainers. He has not even trained me but also motivated me to explore more and the way he executed the project, in the end, was mind-blowing.
FAQ
Cisco is a globally-recognized organization that manufactures and sells networking components, telecommunication equipment, and other products globally. For professionals to be on par with Cisco products and services, they introduced their own certification and training programs. Cisco certifications are divided into 5 levels in the form of Entry, Associate, Professional, Expert, and Architect levels. Over the years, the examination formats have changed, keeping in mind the latest IT trends in the market and how these Cisco certifications can co-exist with other robust IT Service Management and IT Security frameworks and methodologies.
Some of the popular Cisco certification courses are:
Cisco Certified Network Associate (CCNA)
Cisco Certified Designer Associate (CCDA)
Cisco Certified Entry Networking Technician (CCENT)
Cisco Certified Network Professional (CCNP)
Cisco Certified Design Professional (CCDP)
Cisco Certified Architect (CCAr)
Becoming a Cisco certified professional completely depends on an individual's choice and certain criteria. A professional with prior experience and just reading Cisco reference material can clear the exam. Professionals with no experience can sit for an official training program from an authorized Cisco Learning Partner for the recommended duration, prepare well, and take up the exam to clear the same on their first attempt. Usually, the exam lasts for two hours, and labs may end up for 8 hours. Once certified, your Cisco certification will be valid for 3 years.
Not just today, but also in the future, Cisco certifications are the most in-demand credentials required by employers worldwide. With complete digital and cloud transformation, it is imperative for enterprises to create robust network architecture to create a seamless entity that is both secure and scalable at the same time. In this regard, Cisco products are services are the best in the industry. Hence, there is a credible demand for Cisco certified professionals across the globe for various job positions.
Your Cisco exam voucher price will be included within your course fee price from Koenig Solutions. You need to submit your exam voucher with Pearson Vue to take up your Cisco examination.
The cost of the Cisco certification exams differs according to the level and path that you choose.
Below are some of the popular Cisco certification exam fees:
The cost of CCNA Certification Exam is USD 300
The cost of CCDA Certification Exam is USD 300
The cost of CCENT Certification Exam is USD 165
The cost of CCNP Certification Exam is USD 300
The cost of CCDP Certification Exam is USD 200
Yes, the Cisco course fee includes the certification exam fee as well.
Participants can take up their Cisco certification exams from Pearson Vue.
Some of their certifications are valid for two years, and some are for 3 years. In contrast, Cisco Certified Architect (CCAr) credential is valid for 5 years. All Cisco certifications need to be maintained by getting recertified from Cisco at a defined interval period.