Big Data is a business intelligence and data visualization tool developed by Microsoft. Big Data certification is a way to demonstrate your proficiency in using Big Data to create and Big Data refers to extremely large and complex datasets that are generated by businesses, governments, and individuals in increasing quantities. These datasets are often too large and complex to be processed and analyzed using traditional data processing tools and techniques.
Big Data is characterized by its 4 Vs: volume, velocity, variety, and veracity. These 4 Vs describe the size, speed, diversity, and uncertainty of Big Data. The volume of Big Data refers to its sheer size, often measured in petabytes or exabytes. The velocity of Big Data refers to its speed of generation, which can be in real-time. The variety of Big Data refers to its diverse sources, which can include structured and unstructured data. The veracity of Big Data refers to its uncertainty, which can make it difficult to draw accurate conclusions from the data.
A Big Data course typically covers the following topics:
Introduction to Big Data: Overview of Big Data, including its definition, characteristics, and the challenges and opportunities it presents.
Data Storage and Processing: Introduction to different data storage and processing technologies, including Hadoop, Spark, and NoSQL databases.
Data Processing Frameworks: Overview of popular data processing frameworks, such as MapReduce and Apache Spark, and their use in Big Data environments.
Data Analytics and Visualization: Overview of data analytics and visualization tools and techniques, including machine learning, predictive analytics, and data visualization.
Data Integration and Management: Overview of data integration and management strategies, including data warehousing, ETL processes, and data governance.
Big Data Security and Privacy: Overview of the security and privacy challenges associated with Big Data, including data protection, privacy regulations, and security best practices.
Case Studies and Real-World Applications: Analysis of real-world Big Data applications, including industry-specific case studies, to demonstrate the practical application of Big Data technologies.
The goal of a Big Data course is to provide students with a comprehensive understanding of Big Data, its technologies and tools, and the skills and knowledge required to design and implement Big Data solutions for real-world applications.
More than 55% of IT industries have been shifted to the cloud space and the numbers are expected to increase by over 25% in the future. And it has been predicted by Forbes that more than 80% of Enterprise Workloads will efficiently be handled through cloud technologies.

Unlike different disciplines, the salary of a Big Data certification professional is usually 30 percent higher.

At the beginner level, you can earn up to $113K per annum.

Even with less than one year of experience, you will make around Rs.4, 80,000 in a year.

Big Data certification certified are high in demand and gaining significant traction in the US and Canada. People with years of experience can earn maximum of Rs. 1,800,000 per annum.
No matter whether you are a fresher or an experienced professional, our Big Data certification course will help you gain the relevant skills you required. If you are looking to start a career in the field of cloud, we will help you gain all essential skills and let you clear the global certification examination, too.

Establish yourself as a certified Big Data certification professional and get hired by leading IT industries.

Clear the interview and gain all essential technical and communication skills.

Get a more than 30 percent hike in salary as a certified professional.

On the course completion, attempt the Big Data certification exam and clear it in the first attempt as we assure 100% clearance rate for our students.
Big Data has the potential to revolutionize many industries, including finance, healthcare, retail, and government, by enabling organizations to make data-driven decisions and gain new insights into their operations and customers. However, it also poses significant technical, ethical, and privacy challenges, which must be addressed to ensure the responsible and effective use of Big Data.
The roles and responsibilities of a big data professional can vary depending on the size and nature of the organization, as well as the specific position within the field. However, here are some common responsibilities of a big data professional:
Data Collection: Collecting data from various sources such as social media, enterprise systems, and other data sources.
Data Storage: Storing data in appropriate big data platforms such as Hadoop, NoSQL databases, and data lakes.
Data Processing: Pre-processing, cleaning, and transforming data to make it ready for analysis.
Data Analysis: Analyzing data to uncover insights and patterns, and to support business decision-making.
Data Visualization: Visualizing data in a way that makes it easy for business stakeholders to understand and act on the insights.
Model Development: Developing and implementing predictive models that can be used for decision-making and automation.
Solution Implementation: Implementing big data solutions for various business requirements, such as customer behavior analysis, fraud detection, and predictive maintenance.
Performance Optimization: Optimizing the performance of big data systems, such as data processing pipelines and analytics tools.
Technical Support: Providing technical support to users of big data systems and ensuring that they are working effectively and efficiently.
Staying Current: Staying up-to-date with the latest developments in big data technologies and best practices in the field.
Note that these roles and responsibilities can overlap, and a big data professional may be involved in multiple aspects of the big data lifecycle.
Top industry verticals:

Travel Industry, IT Sector, Healthcare and Medical Sector, Media & Entertainment, Banking & Finance, Transportation, Non-Profit Industries, eCommerce, Insurance Sector, etc.

Top hiring companies:

IBM, NETFLIX, FEDEX, Infosys, American Express, etc.

Benefits of getting trained with us:

Find yourself a more competent, confident, and knowledgeable resource.

Crack any interview with leading industries without any difficulty.

Start working in your dream company like a PRO.

See a drastic change in your communication skills.
You will get a completion certification to validate your skills after the completion of Big Data certification training. Also, you are likely to get recognized among top corporate giants. When it comes to enhancing your overall career, we endeavor to give the maximum support.

Our training certificate is globally accepted

Helps the learner to climb the professional ladder

Increases your earning potential

Makes you stand tall above the rest
Why Should You Learn Big Data certification Training?
1000+ companies have an urgent requirement of Big Data certification professionals.
The annual salary of an Big Data certification is $125k.
20% rise in the number of students who choose Big Data certification solutions architect training.
Since the previous year, there's an increase in jobs for Big Data certification professionals.
In the US alone, there are more than 10500 jobs projected in the next 3 years.
1000+ companies have an urgent requirement of Big Data certification professionals.
The annual salary of an Big Data certification is $125k.
20% rise in the number of students who choose Big Data certification solutions architect training.
Since the previous year, there's an increase in jobs for Big Data certification professionals.
In the US alone, there are more than 10500 jobs projected in the next 3 years.
1000+ companies have an urgent requirement of Big Data certification professionals.
Training Certification
Earn your certificate
Your certificate and skills are vital to the extent of jump-starting your career and giving you a chance to compete in a global space.
Share your achievement
Talk about it on Linkedin, Twitter, Facebook, boost your resume or frame it- tell your friend and colleagues about it.
Plenary for Big Data certification Program
| Track | Week Days | Course Duration | Fast Track |
| --- | --- | --- | --- |
| Course Duration | 40-45 Days | 7 Weekends | 8 Days |
| Hours | 2 Hrs. Per Day | 3 Hrs. Per Day | 6+ Hrs. Per Day |
| Training Mode | Online | Online | Online |
Want To Know More About
This Course
Program fees are indicative only* Know more
Program Core Credentials
Trainer Profiles
Industry Experts

Trained Students
10000+

Success Ratio
100%

Corporate Training
For India & Abroad

Job Assistance
100%
FOR QUERIES, FEEDBACK OR ASSISTANCE
Contact ZebLearn Learner Support
Best of support with us
WhatsApp (For Call & Chat)
There are no specific eligibility criteria to enroll in our Big Data certification course. Anyone interested in starting a career in Big Data can register for this Big Data training program and become job-ready.
Yes, our dedicated crew of professional regularly updated the content of our course; ensuring students must get the latest knowledge.
The demand for Big Data certification has been on the rise in recent years, and it is expected to continue growing in the future. This can be attributed to the increasing importance of data visualization and analysis in the business world, and the recognition of Big Data as a leading tool in this field.
More and more organizations are recognizing the value of having data visualization experts on their team, and Big Data certification is becoming a sought-after skill in the job market. As a result, individuals with Big Data certification are in high demand and often command higher salaries compared to those without certification.
Additionally, Big Data continues to evolve and add new features, making it an evergreen tool in the data visualization field. As a result, the demand for Big Data certified professionals is expected to remain strong in the future.
Overall, the trend in the Big Data certification market is positive and is expected to continue growing in the future as the importance of data visualization and analysis continues to increase in the business world.
Here are some of the benefits of taking a big data course:
In-demand skills: The demand for big data professionals is growing rapidly, and taking a big data course can give you the skills and knowledge needed to pursue a career in this field.
Career Advancement: A big data course can help you enhance your existing skills and qualifications, making you a more competitive job candidate in a rapidly growing field.
Increased earning potential: Big data professionals are in high demand, and as a result, they can command higher salaries than other IT professionals.
Improved data analysis: Big data courses can help you gain a deeper understanding of data analysis techniques, enabling you to make more informed decisions based on data.
Better problem-solving: Big data technologies and techniques can help you tackle complex problems that would be difficult or impossible to solve using traditional data analysis methods.
Enhanced data management: A big data course can teach you how to effectively manage large volumes of data, including how to store, process, and analyze it.
Better decision-making: By learning how to analyze big data, you can gain insights into trends, patterns, and relationships that can inform better decision-making.
Better business outcomes: By leveraging big data technologies, organizations can improve their operations, increase efficiency, and achieve better business outcomes.
Better customer experience: Big data can be used to gain insights into customer behavior, allowing organizations to improve their customer experience and increase customer satisfaction.
Overall, taking a big data course can equip you with the skills and knowledge needed to pursue a rewarding career in this exciting and growing field.
Overall, a Big Data course can provide many benefits, including improved job prospects, increased earning potential, better data analysis, improved communication, and career advancement.
Here are some of the prerequisites for learning big data:
Basic programming knowledge: Some basic knowledge of programming, such as experience with a programming language like Java, Python, or R, is helpful for learning big data.
Knowledge of database concepts: Familiarity with database concepts such as relational databases and SQL is also beneficial for learning big data.
Understanding of statistics: A basic understanding of statistics, including concepts like mean, median, mode, standard deviation, and correlation, can be useful for analyzing and interpreting big data.
Basic knowledge of cloud computing: An understanding of cloud computing, including the basics of how it works and how it can be used to store and process big data, is also helpful.
Familiarity with data structures: Familiarity with data structures, such as arrays, linked lists, and trees, is important for working with big data.
Knowledge of Linux: Familiarity with Linux and the command-line interface can be beneficial for working with big data technologies like Hadoop, which is often run on Linux servers.
Understanding of data warehousing: A basic understanding of data warehousing, including how data is stored and processed, is important for learning big data.
These prerequisites are not absolute requirements, and many big data courses are designed to teach you everything you need to know from scratch. However, having some prior knowledge in these areas can make the learning process easier and more efficient.
Career Assistance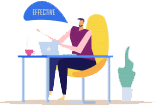 – Build an Impressive Resume
– Get Tips from Trainer to Clear Interviews
– Attend Mock-Up Interviews with Experts
– Get Interviews & Get Hired
Instructor-led Sessions
The most traditional way to learn with increased visibility,monitoring and control over learners with ease to learn at any time from internet-connected devices.
Real-life Case Studies
Case studies based on top industry frameworks help you to relate your learning with real-time based industry solutions.
Assignment
Adding the scope of improvement and fostering the analytical abilities and skills through the perfect piece of academic work.
Lifetime Access
Get Unlimited access of the course throughout the life providing the freedom to learn at your own pace.
24 x 7 Expert Support
With no limits to learn and in-depth vision from all-time available support to resolve all your queries related to the course.
Certification
Each certification associated with the program is affiliated with the top universities providing edge to gain epitome in the course.